690 Beverley Street (1) Location Map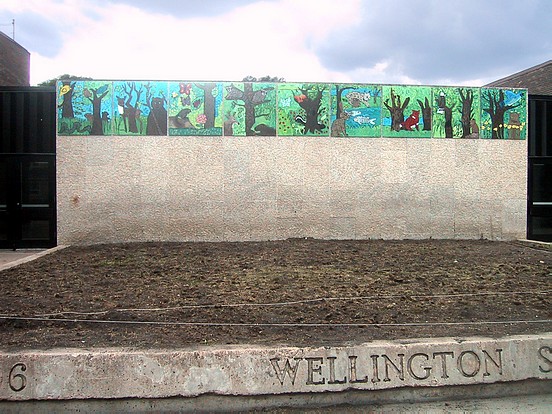 This series of panels were done by the Wellington School Students in the spring of 2006. Here the East entrance shows off 9 of the 17 panels. The rest can be seen at the West Entrance (see Photo 2).


Location: SW corner Beverley & Wellington at school entrances on both East and West Face

Occupant: Wellington School

District: West End

Neighbourhood: Daniel McIntyre

Artist(s): Wellington School Students (unsigned)

Year: 2006

Sponsors: Downtown Winnipeg BIZ


This Boreal Forest Mural was painted by grade 4 students at Wellington School as part of their study of animal habitats. They started with a field trip to the Assiniboine forest in September of 2005. They studied and sketched Manitoba animals and trees, looking at shapes, contour lines, patterns, textures and colours. Students primed and painted each of the seventeen 4 foot by 4 foot panels indoors in the school's art studio from December through April. Approximately 70 students worked collaboratively on the panels, coached by their art teacher, Rhian Brynjolson. The Childrens' Heritage Fund sponsored a portion of the materials. The mural was then installed over the east and west entrances to the school and was officially unveiled for Wellington School's centennial celebrations in June of 2006. A well-known Canadian artist and alumni of the school, Bruce Head, helped with the unveiling. Later in June, grade 5 and 6 students planted an actual boreal forest in front of the Murals, including only species of plants native to Manitoba. The ambitious gardening project was organized by the school's librarian, Dianne Arnott.

Here is what students had to say about their Mural:
"I liked painting with the roller best."
"I liked making my paintbrush dance. I'm going to come back and see the Mural when I'm old."
"My favourite part is the rabbit."
"The tree branches were confusing to draw because they criss-crossed."
"The Mural is a birthday present to our school because it's 100 years old."
"It is awesome."

Source: Notes by Rhian Brynjolson.