407 William Avenue Location Map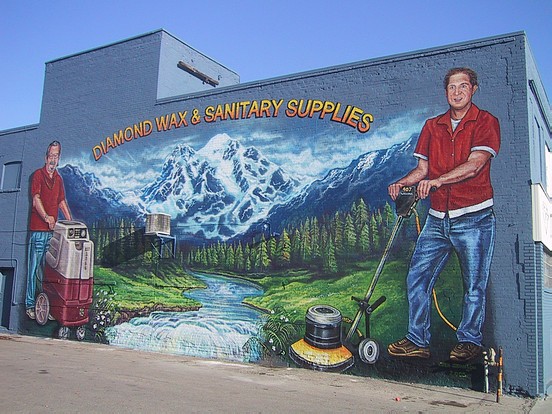 This commercial Mural project included personal touches for the client and adding much-needed signage at the side and front of the building.


Location: N side bet. Ellen & Gertie; West Face

Occupant: Diamond Wax

District: City Centre

Neighbourhood: Centennial

Artist(s): Jennifer Johnson

Year: 2005


Bob Buchanan (The Murals of Winnipeg website): " I learned about a planned Mural for this wall; and at my first opportunity I went out to have a look at it (photo 3). While I was there, I met the business owner, Norm Adelberg; and we chatted briefly about his plans for a Mural and his discussions with the artist. It was nice meeting him; and I hoped that he would get the kind of work quality; and in short, the Mural he was looking for."

"Over a month later, I received a phone call from Norm asking me if I knew where the artist was. I was dismayed as I had seen this pattern with this particular artist on more than one other occasion. After a couple more phone calls, he asked me if I would find him an artist; as he was still serious about getting his wall- I told him I'd be glad to help out, particularly in this case. I quickly took an inventory of the various artists that I was familiar with and who I personally would want to recommend. Many of them were currently busy with other projects. And then I thought of Jennifer Johnson."

"Jen was working at a site on Wall Street but was almost done; and wanted another project; and I was perfectly prepared to recommend her as I knew the quality of her work and the care she takes with her clients. I knew this firsthand, having been a client of Jennifer's myself. I knew that I could rest at ease with Jennifer running things; and throughout this job she kept me apprised as to how it was going. And I couldn't be happier with the outcome. Norm got a great wall and signage for the price."

Jennifer Johnston: "This was a fun project. When I came into it, they weren't really sure what they wanted in a Mural; and they were very open to my suggestions. I said to them 'this is your business; you're advertising, so make it something personal' and I mentioned the idea to have at least one of them in the Mural. They seemed to like that idea and they both ended up in it. I knew we needed something else besides just sanitary supplies and something that would appeal to people in the area. I didn't want it to be a Mural with cleaning products so I thought a nature scene would be suitable. One of their supply sponsors was named Mountain, so there's where that came from!"

"My portrait work is coming along. The heads alone are over 3 feet high. From your photo (Photo 1), I think Roth looks better- he's on the right. Norm is on the left. I felt they should have some signage on there as well. My friend likes the lettering because he thinks it looking like Indiana Jones. It wasn't deliberate, but I chose those colours because there was so much green and blue and even red and because it needed something else to focus your eyes to."

"Norm and Roth were fun and great people to work for. They were easy to please but made you want to work harder at the same time. Every Thursday I was there I had Chinese food with them. Norm got a kick out of having a Mural done- he would stand on the street and wait for people to walk by and say it looked like him! The carpet cleaner has 'est.1966', the year he started the company. I would have to say that this Mural is one of the most fun I've had; and it makes me smile when I drive by it. It's fun; that's what Norm is; and that was my intent with the Mural. I know the scene is a bit silly; but then again it could be construed that they're 'cleaning up their environment'. A lot of their products are in fact environmentally friendly."

"I was a little crunched for time because of the late start in the season- I didn't get this started until mid-September but the weather was phenomenal. The neighbours in the area were great and a lot of them got to see the progress on the wall day by day. One night my car battery went dead- I had been using my headlights on the wall so I could get an extra half hour's work on the wall. A neighbour, Leo, came and gave me a boost."

"This is the biggest project I've ever done on my own, especially when you consider the signage work on the front of the building. The end result, I think, has been a total turnaround for the building. Afterwards, a lot of people came up to Norm and asked if he had just moved into the area, not realizing they've been there for a very long time."