1688 St. Matthews Avenue Location Map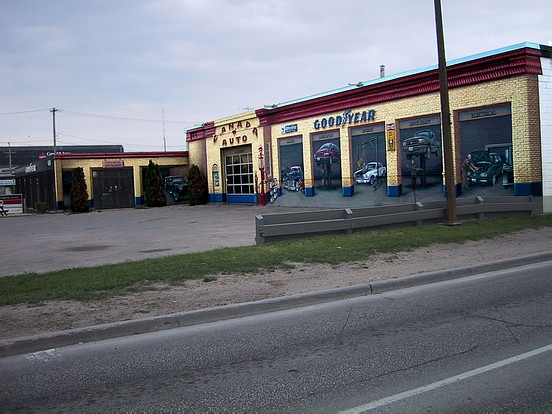 Charlie Johnston's fantastic trompe l'oeil Mural for Canada Auto. It is beautifully lit in the evening for viewing after dark.


Location: SE corner St. Matthews & Century; North and West Face

Occupant: Canada Auto

District: St. James

Neighbourhood: St. James Industrial

Artist(s): Charlie Johnston (C5 Artworks)

Year: 2003

Painters: Sarah Johnston
Dan Iwanchuk (Canada Auto): "One of the problems we had with this building is because we only had one bay door, people didn't realize we actually serviced automobiles here! A typical service shop has four or five bay doors. We only have one bay door but we have eight bays inside! With the Goodyear signs on it people thought we were a Goodyear office building and warehouse. I started thinking 'what could we do to dress it up': it's very expensive to put an extra set of doors on there plus all the heat loss and so on. Then we thought we'd just paint it to look like any other garage, but I wanted it to stand out! My grandfather started this business back in the 1930's, so what we thought we'd do was to try to create a 1930's service station Mural on the building. It would look more like what we are doing plus it goes back to our roots!"

Charlie Johnston: "The original idea was based on an old-fashioned garage from the States on Route 66. It had all those qualities: the tiles, clay shingles, yellow bricks; so that became the template for the design. I took it from there and built on it. A lot of elements were added on top as we went along; it was really like arranging a space. Since it was a long project we had a lot of time to think about what we wanted, for instance what kind of cars. At one point we were thinking about all vintage cars, but then they didn't want to give the impression that that's all they did in their garage. That's how my van wound up in there (photo 5) and some other contemporary cars. We wanted it to look like a vintage garage with old signage on it so most of the sponsors' ads were represented that way. My favourite one is the Hastings one (photo 7) with that kooky old-fashioned character on there; a cartoon that has the qualities of those bygone days."

"That wall has lots of optical illusions like the bricks passing through a wall that turns this way and making it behind the grandfather (photo 2), or having the old air pump hose line up to a hole in the wall where the air pump comes out, so that when they'd pull the air hose out it looks like the old air pump's hose (photo 4)."

Dan: "People get a real kick out of that! And all these cars that are on here are also customers' cars: these are cars that we've worked on. That's a 1947 Cadillac (photo 5) that we rebuilt the engine on a few years ago. It's a very good replica of what that car looks like. It would probably be worth about $50,000 US now. We've got my late brother Randy changing the tire on there. We had so many customers walk in and comment on how much it looks like Randy."

"In the next bay (photo 6) we have a fellow pulling an engine out of that Mustang. He actually did pull that engine out of that Mustang probably about 15 years ago. He is a former long-time employee with us named Walter Kerges. He passed away in a vehicle accident. He was involved in racing with his son; he was on the way back from picking up a racecar when he had the vehicle accident. Charlie did in excellent job of re-creating his look from the picture. The Mustang owner is a current customer of ours, and that engine and car is still running, still going strong."

"Joe Beaudais (photo 7) was another long-time employee and he's in the next bay. We do a lot of driveline work, and that's what he's doing on the Mural: he's pulling a drive shaft out of a vehicle. He started us in that driveline business. He had been with us for 15 years and passed away in about 1998. Joe and his family also liked to participate in the racing events. In the last bay (photo 8) we have my father. He still working with us, he 72 years old now (as of the end of 2003); he still here every day! It's been a family business, and my two brothers both are also involved with the business."

Charlie: "Someone nearly drove into one of the car 'bays' before I painted the cars in. It looked like an open bay door to them. Talk about your Road Runner moments!"

Dan: "We have a service door intended for employees and shipping and receiving. We used to have a lot of customers walking in there; so they were walking right into the garage instead of the showroom. So what Charlie did as he painted it was to make it look like a window so it's rather camouflaged now. He also put 'customer entrance' lettering over the showroom door; so these two things solved the problem completely. And the whole wall has definitely brought us a lot more customers now that you can see the type of work we do."

Charlie: "It was another wall where I pulled together a lot of things I learned over the years, from being creative with design writing skills (as opposed to just reproducing logos and making them look like they came out of a machine) and giving them an aged or a nostalgic quality. Optical illusions, taking on a role almost like an image consultant, how the colours and feeling of it are going to work, and having a long dialogue with the client."

Dan: "The fluorescent lights which illuminate the wall come on from sunset to sunrise; and we do have a spotlight on my grandfather in the corner as well. And now that the wall is complete, we've had suppliers come forward who've now seen the completed wall and want their logos on the wall, which is great for us because it helps offset our costs."

"I'm very happy with it, and didn't dare believe it would turn out this great! The reception we've gotten from people! We had a fellow park one of his old vintage cars in front of it, took some pictures and it got published in national Hot Rod Magazine! We also had one fellow come into the lot and park his 1957 Metropolitan Nash in front of the wall and took a picture of it. Then, rather than send out Christmas cards, he made up the calendar that he sent out to everybody and he has a full picture of the wall on it. All of our customers tell us they love the wall. The whole idea was to bring the attention and get people to understand and show them what we're doing here. It's really done that job, better than we ever anticipated. We're unbelievably ecstatic with the job that Charlie's done!"