714 Ellice Avenue Location Map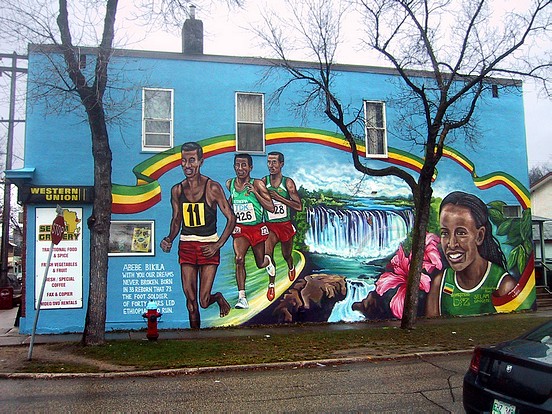 "Nation of Ethiopia"
This Ethiopia themed Mural took some of its inspiration from the famed contingent of long distance runners from that country.


Location: SE corner Ellice & Toronto; West Face

Occupant: Selam Grocery

District: West End

Neighbourhood: St. Matthews

Artist(s): Jennifer Johnson, Carolyn Burnet

Year: 2006

Sponsors: Neighbourhoods Alive! (Manitoba), West End BIZ


Tefari Nega (Proprietor): "Abebe Bikila is an example, a role model: he ran with determination and heroism, he was a great runner, he ran barefoot and he won the gold medal. He set expectations and goals for everybody else. He won in Rome in 1960 and again in Tokyo in 1964. In his career he ran 15 (marathons) and he won 12. Everyone was so happy and then after that THEY decided to start running. Two of those men are featured in the Mural who were also successful runners, Haile Gebrselassie and Kenenisa Bekele. Mesera Dafar also won a gold medal running the 5000 and 10000. She ran in Sydney and also in Europe. The Nile Falls originates in Ethiopia and is the longest river in the world. And the flower featured there is the most popular flower in all of Ethiopia."