988 Main Street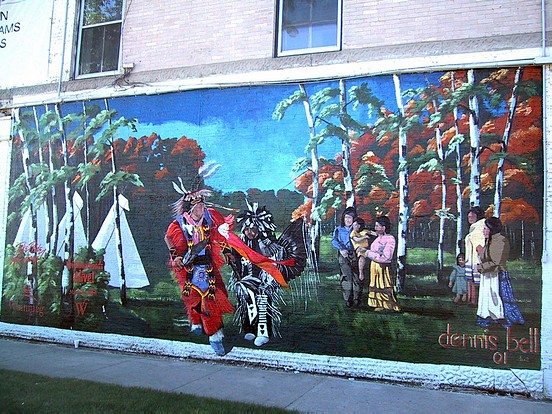 This rendering of Pow Wow Dancers was completed in 2001 by artists Dennis Bell and Diane Bell, and was sponsored by Take Pride Winnipeg, Neighbourhoods Alive, The City of Winnipeg and Winnipeg Foundation. It was lost in 2006 after a fire destroyed the building and was demolished.

Original notes follow.

Dennis Bell: "The Vietnamese family that owned the restaurant wanted an aboriginal heritage scene. I thought of Indians on their horses, and hunting, and a few other approaches, but I decided on the Powwow dancer, with people watching the dancers. I went to an organization on Broadway, I think, that was promoting Powwow dancers across Western Canada. They gave me some photographs of dancers from different locations in Manitoba. These two dancers in the Mural are composites from many dancing figures in the photographs. I wanted the Powwow dancers to jump out at you from the wall. If you look at the figure in red, he looks as though he's about to step off from the wall. I wanted his audience not dressed in modern dress with baseball caps or anything like that, but in more traditional garb to make it more of a heritage scene."

"It's a nice autumn scene. I wanted to catch the colours, the browns and the oranges, so that your eyes are drawn down to the Powwow dancer dressed in red. And I wanted it to be like the evening; that's why the treetops on the left are tipped in brown, and there's a cast of light on there, bringing out the powwow dancers even more."

"When we were working on this one, I had gone back to work at the high school, so we could only work in the evenings. Sometimes in September, the evenings can be pretty chilly and there's not much daylight after supper either at that time of the year. But it was a lot of fun to do! The people of the restaurant would feed us, and come out and see how we were doing- they were great."
Displaying Photos 1-3 of 3