110 Winona Street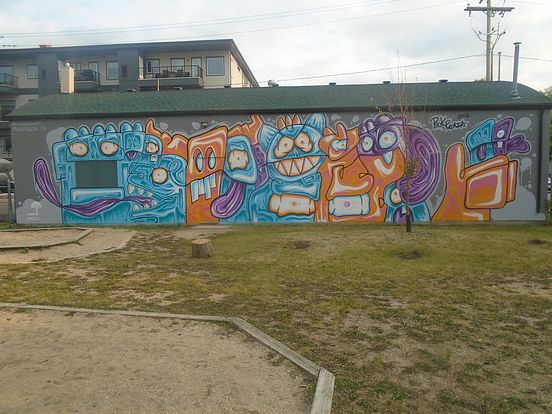 'Everything Will Be O.K.'
Aerosol, 720 Square Feet
This piece for Scouts Park in Transcona was designed and rendered in 2018 by Cathleen Hues, painting as Pink Panda. Sponsorship was by Trancona BIZ. In 2022 she was approached again with the opportunity to revisit the wall with a new design.
Origina notes follow:

Cathleen Hues: "This Mural is dedicated to the kids and the kids at heart like myself. My monsters have always been an expression of my emotions. Whether it be scared, happy, angry, anxious, sad, etc. I always work through tons of stuff in my mind and in the end I'm happy to share them with the public; this time in massive form. This mural project was a fun challenge that I wanted to conquer both physically and mentally and at its size, it is also the largest Mural I've completed to date."

To view the terrific Suzanne Hunter piece on this project for the Canstar Herald, click here.
Displaying Photos 1-3 of 12