Fermor Pedestrian Underpass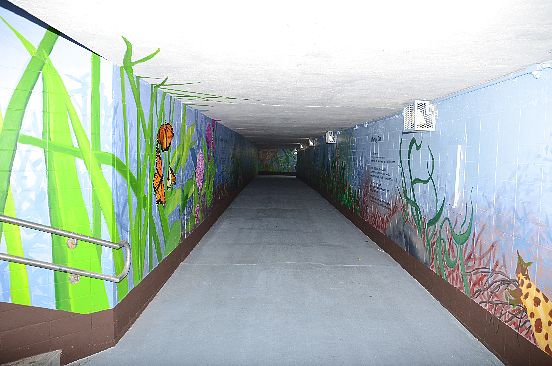 'Onizhishin Aabijijiwan Zhiibaayaabandan -
(Beautiful, Continuous Flow-through)
Establishing shot from library side looking North.
Photos 2-14: Finished sections and detail shots.
Photos 15-19: The Artist Poems
Photos 20-21: The unveiling.
Photos 22-27: In Progress Photos. ,
This special project was undertaken in 2021, and rendered by Mandy van Leeuwen, Franklin Fernando, and Glenlawn Collegiate Students: Peyton Clark, Anne Zapata, Jaymisyn Santos, Jillian Beaubien. Glenlawn Art Teacher: Cloyd Barth. Student Poets: Zainab Aidi, Nawal Semir, Claire Hill, Aachal Patel, Jaymisyn Santos.
Sponsorship was provided by Take Pride Winnipeg!, Brian Hayes, City Councillor, City of Winnipeg. The Project Advisor and Knowledge Keeper was Jeannie White Bird.

Not long after the Mural was completed, the artwork was trashed and vandalized badly by peabrain idiots with tagging at night. In late August of 2022 the Mural was quickly replaced with new artwork and then the entire surfaces were immediately graffiti coated for protection prior to the underpass being reopened to the public.
Original notes follow:===

Click here To view the informative CTV digital piece filed by Charles LeFebvre.

Click here to read the EXCELLENT Winnipeg Free Press article filed by Julia-Simon Rutger.

'Onizhishin Aabijijiwan Zhiibaayaabandan'
(Beautiful, Continuous Flow-through)

As titled above, the project received a traditional naming honour by Elder Peter Atkinson, Anishinaabe from Roseau River Anishnaabe First Nation, followed by song and teachings at the unveiling ceremony August 5, 2021.

Mandy van Leeuwen: "It was a privilege and an honour to collaborate on this memorable project. Thank you Jeannie White Bird, Traditional Helper, Rolling River First Nation, for your friendship, guidance and shared spirit. The experience was fantastic and I can't say it enough what a transformation such as this one can do for community."

"Recognizing this as an opportunity for a collaboration that builds on reconciliation, one that sees a connection between healing and growth in a path forward. Informed by demonstration and teachings by Jeannie White Bird, the artwork features many larger-than-life species and plants found in Manitoba that are often used as medicines within Indigenous communities. Plants such as Muskeg Tea (Labrador Tea), Seneca Root (Snakeroot), Wolfwillow Bush, Weekay (Sweet Flags), Horsetail, Kandamo (Water lily) and Fire weed are among the many plant medicines. Deepening the experience for those who cross through the connecting 120' long pathway, 5 poems were also created by Glenlawn students and are showcased along the expanse."

The Fermor tunnel is a pedestrian pathway that holds a sole purpose of making cnnection and appreciated as a space that also shares in the growth and development of creating a positive artistic work experience. The Mural project was joined with enthusiasm in its creation by students from Glenlawn Collegiate: Peyton Clark, Anne Zapata, Jaymisyn Santos, Jillian Beaubien as well as Art teacher Cloyd Barth and fellow artist, Franklin Fernando."

Jeannie White Bird (at Mural Unveiling): "I am very honoured to have been asked by Mandy (van Leeuwen) to collaborate on this project. One of the things I felt was relevant- not only in times of reconciliation, but also- we're nurturing; we're fostering these incredible relationships by role modelling with the youth by sharing from myself. I'm just a traditional helper. I've gained my knowledge from these wonderful knowledge keepers and elders in my community. What I'm being taught when I go out on the land is to have that reciprocal respectful relationship with Mother Nature with the land that we are on and not just doing that land acknowledgement which is very important. But to also have a relationship with Mother Earth, and to share that view, and to take time...(inaudible)"

"When I walk out, and I take that time out on the land, these are the plants that I see. These are the ones that are speaking to me. And I thought it was important to incorporate these plants and then also share a little bit about what those plants do for me; what those plants can do for other people and what they can do for the community."
Displaying Photos 1-3 of 27