581 Portage Avenue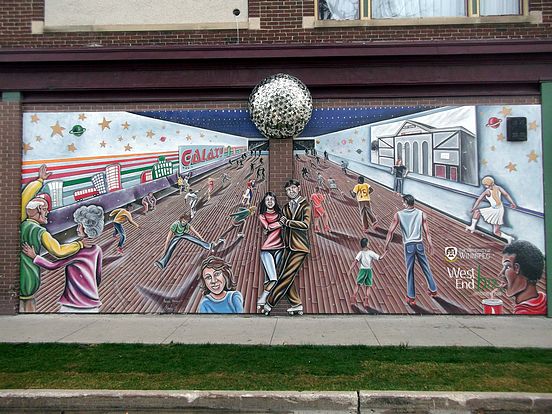 'Remembering the Roller Rink'
This nostalgic piece was rendered by Annie Bergen, Marcus Bauer and Ursula Neufeld in 211. Sponsorship was by West End BIZ and the University of Winnipeg. The artwork was lost on February 2, 2022 when a fire destroyed the entire building.
Original notes follow:===

Remembering the Roller Rink pays tribute to the former Winnipeg Roller Rink which since the 1930s stood at the corner of Portage and Langside (across the street from the BIZ office) until 2007. It saw upwards of 1,500 skaters using the rink at one time, during its peak in popularity, including dance skating groups and trick skaters. The piece was painted by artists Annie Bergen and Marcus Bauer, with mosaic artist Ursula Neufeld, who created the very unique mirrored mosaic disco ball.

The aging building was torn down in 2007, but its wooden floor boards were preserved and incorporated into the new University of Winnipeg Richardson College for the Environment and Science Complex, which now stands on the rink's former site. The roller rink building started as a livery stable, then served as an ice skating rink, followed by a storage facility, before becoming a yearround roller skating rink, believed to be the largest in Canada. At times the rink saw upwards of 1,150 skaters at a time packed into the building. Its popularity drew people from all over Manitoba and roller skating clubs would regularly meet there for dance skating, trick skating and lessons. The rink became a favourite place for all ages and a Winnipeg icon. This mural depicts an interior look of the roller rink, capturing the fun and energy of the skating experience. The popular disco ball is incorporated into the mural using real glass and dance skaters actually stand out from the wall itself.

Source: West End BIZ

Annie Bergen: "This mural began when the West End BIZ, working alongside University of Winnipeg's new Environment + Science Complex determined that a mural should be made honoring the Winnipeg Roller Rink (also called Galaxy Skateland). I worked with Andre, a former owner of the Roller Rink, who supplied me with paraphernalia of the roller rink in its day. It was such a vibrant, exciting place. It made me wish I had gotten to experience this fun subculture!"

"Because I had never been in the Roller Rink, I had to work from photos and from people's memories. I did my best to pay credence to the scale and atmosphere of the space. Marcus painted it with me, and Ursula Neufeld made the disco ball out of cut mirror and a giant, carved Styrofoam ball. My partner Lee Holleron helped with installation."
Displaying Photos 1-3 of 11