97 Sherbrook Street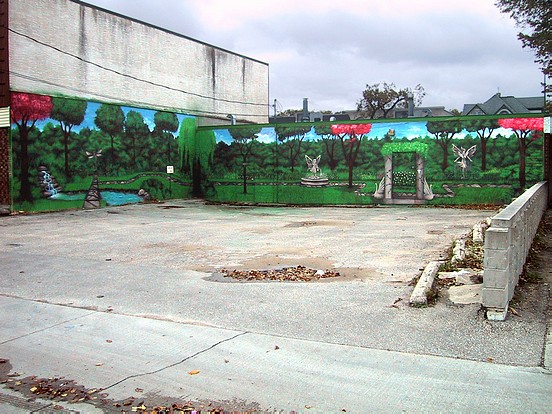 This rendering was by Tiffany Seymour in 2004; with sponsorship by Take Pride Winnipeg, Neighbourhoods Alive and West Broadway BIZ. The artwork was lost in 2021 when these two back walls were repainted.
Original notes follow:===

Tiffany Seymour: "Take Pride Winnipeg offered me a choice of several walls and I thought this location would be cool to work at. We decided on a garden scene for it. The sketch I did was only part of the east wall with the two fairies; and I had to extend the scene to fit the whole wall, (including all of the north wall). The client may have wanted butterflies instead, but I was really insistent on having them (fairies) in there."

"It was fun there, and there were interesting people in that area. They were all really nice, and sometimes people would come up and give me a drink because they thought I was pretty hot. People there were friendly. People wanted to get involved and give me their opinions on what I should add. For the most part the weather was good. It seemed like a huge wall to me at first, but once I got into the groove of it, it went along OK. People would come up and bring their lawn chairs and watch me. The people who worked at the store were nice, and I got to store my supplies there."

"Both rear doors are camouflaged now. It's a cultivated garden scene. I would have liked to have put more flowers and more colours than just green. The idea for the swans is that they were actually planters. I was glad to have the opportunity to add things that I like to paint anyway. One fairy is a fountain figure; the other is a statue."
Displaying Photos 1-3 of 4