415 Stella Avenue (2)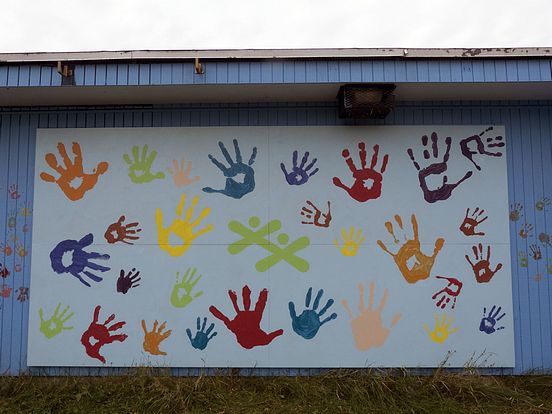 This artwork was by Dave Carty and Aberdeen Boys and Girls Club and installed on October 16, 2016. Sponsorship was by Take Pride Winnipeg. The Mural disappeared in 2021.
Original notes follow:====

Dave Carty: "The Aberdeen Club Mural is an 8 feet by 16 feet rendition done by the kids of the Aberdeen Boys and Girls Club. The Mural is painted on half inch sign board by the kids of that club. The content of the Mural originates from the wide use of children's hand prints found throughout the Boys and Girls Clubs of Winnipeg's web site and promotional materials. As well the club had been recently painted and at that point the kids were encouraged to add their own hand print impressions on the exterior of the building."

"The demographic of this club is Indigenous children and I therefore concluded that the use of children's hand prints on the mural itself would lend itself to a lesson in Indigenous cultural history, that being rock art or pictographs. Indigenous rock art or pictographs have a long illustrious history and are found in many locations throughout Canada and North America. There are many sites on Lake of the Woods in Ontario and a site on the Bloodvein River in Manitoba. The pictographs were painted on rock faces usually close to water's edge done by medicine men. The hand print symbol itself has various meanings historically but all are spiritual in nature. Many Indigenous North American rock art sites have been carbon dated to three to four thousand years in age."

"A session was spent with the kids involved discussing the culture significance of this to their native origins in North America. Approximately fifteen kids participated on the Mural project. Ten children provided hand prints using tempera paint. The hand prints were then enlarged to various sizes. The enlarged hand prints were then laid out and organized on the sign board panels by the children. These prints were copied on to the sign board and the kids then painted each hand print in a colour of their own selection."
Displaying Photos 1-2 of 2