618 Main Street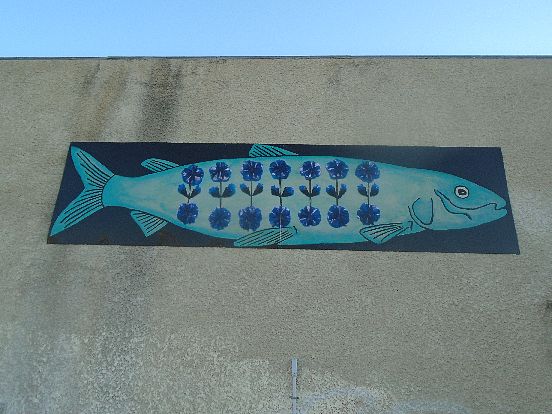 'Fish/Scale'.
Size: 4' X 16'
,br>This piece was by Erin Marie Konsmo (Land Glitter) in 2929 for Wall-to-Wall Festival that year; with sponsorship by Synanoym Art Consultation, Downtown Winnipeg BIZ, Graffiti Arts Programming and Signex Manufacturing. It was removed in 2021 to make space for a new installation.
Origianl Notes Folloe:

The Artist Bio for Erin Marie Konsmo (Land Glitter) and link to their Instagram page can be viewed here.

ARTIST STATEMENT:

Fish scale art is a contemporary Metis and Cree art form originating from northern Alberta that uses whitefish scales to create intricate florals. Erin Konsmo's (Alberta Metis) practice has been guided by experienced fish scale artists, and as a queer, new generation artist they seek to queer the artform by using fish scales in different forms and media. They also seek to queer fish scales by drawing parallels between this water based sparkle and queer aesthetics of glitter and sequins. Erin seeks to spotlight the importance of fish in a landscape where rivers and lakes are plentiful with a work titled Fish/Scale. The land today known as Winnipeg has been intrinsically shaped by the waterways that flow through it, and by bringing a whitefish to the urban landscape. Erin hopes to call attention to a collective relationship with the fish that swim through Winnipeg. This art form is typically small in size and can be overlooked by larger scale works. This submission is as much about the importance of fish and waterways as it is a challenge to those who take in art to see small forms for their value.

Fish/Scale is a play on words, which suggest both the larger-than-life format of this piece, as well as the physical fish scales gifted from the whitefish which form the core of this artistic practice. Playing with the idea of size by blowing up fish scales to a Mural format makes explicit the importance of both fish and the waters that many too often take for granted. Erin presently lives on their Anishinaabe partner's territory in nearby Treaty #3 (Sioux Lookout), where they process whitefish for both food and art supplies, and the scales are then cleaned, sorted, and dyed so they can make florals such as those showcased in this mural. Participating in the Wall-to-Wall Mural and Culture Festival has given Erin the opportunity to take this micro art outside of its usual form into a macro scale. Keeping the design form simple to the silhouette of the fish and fish scale florals makes the fish the centre form of this Mural. Erin wants the public who interact with this art to see the beauty of fish from a Metis form and feel as though they are connected to the waters in more urban areas of the city. Having a large scale whitefish, they hope to convey a sense of movement with the fish swimming through the urban landscape.

Source: 2020 Wall-to-Wall Mural and Culture Festival notes.
Displaying Photos 1-3 of 4