316 Rue Des Meurons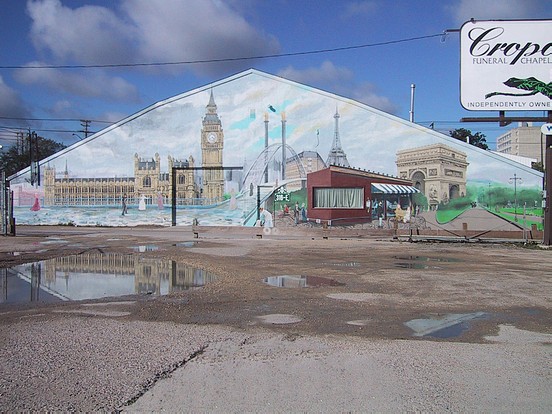 "England and France Meets Winnipeg"
This 2003 rendering was by Michel St. Hilaire, with sponsorship provided by Norwood Grove BIZ. It was lost in March of 2021 when the building was demolished.
Original notes Follow:===

Michel St. Hilaire: "The owner was predisposed to towards putting Europe in there. We wanted London and France to meet Winnipeg! Big Ben is there representative of English culture, and then on the other side well-known symbols of the Parisian culture such as the Eiffel Tower and l'Arc de Triomphe. I used photo references for these. The rest of this whole thing is made up from my imagination. The landscape to the right of the l'Arc de Triomphe, for instance (photo 2), does not exist. There's a cafe there to help incorporate the window of the building; there's an artist with his easel (photo 3), and various people around; a very European feel."

"In the middle for Winnipeg, we had originally planned to use the new Provencher Bridge, but we did the Norwood Bridge, since the Norwood Grove BIZ were also involved with this Mural and since it is also visually quite distinctive. I did heighten the bridge somewhat to make it a bit more grand; and I narrowed it to fit the wall as a pedestrian bridge since the era I was trying to represent here, which was an impressionist style, is when there were no cars. And I thought of putting more people on, but then I thought it would be overkill because there's so much detail already."

St. Hilaire even utilized the look of his sky and clouds on the wall to aid capturing the feel of London, Winnipeg and Paris: "Starting on the right over Paris you see the violets and yellows of romance in the sky. Over Winnipeg the skies are more blue and opening up and that makes me think of prairie land. And then we go to London; it gets dark and grey; and then you feel the wetness. And the cobblestone everywhere- it's got that feel of a wet day."

"This project took approximately 60 hours, spread out over three weeks or so. The weather was off and on, so I was there off and on, usually for a five-hour day. It's a pretty quiet area, lots of traffic but little pedestrian traffic. It's a drive-by Mural, which is fine by me- I think it looks best when you drive by!"

"You're one of the reasons I got this wall. Mark (Norwood Grove BIZ) chose me from your list on the website, so thanks! If the website had not been around, I would not have gotten it."
Displaying Photos 1-3 of 5