625 St. Anne's Road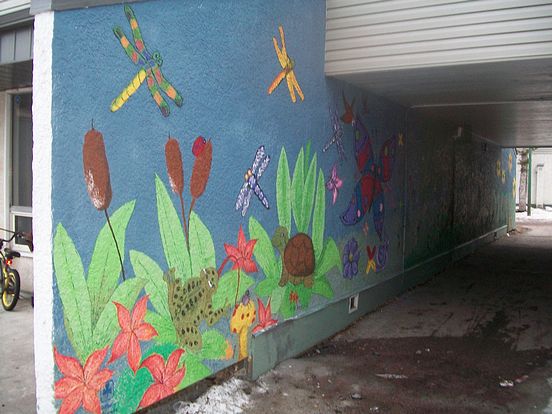 This artwork was rendered by Gwen McEwan (under the pseudonym 'jjynxt') in 2012. Shown here is a view from the east side. The artwork was lost due to extensive renovations throughout the entire complex in 2019.

Original notes follow:===

Gwen McEwen (April 2013): "It was almost a year ago now- I received a phone call from the Family Center of Winnipeg. They, along with a Brownie troop were looking for an artist to assist them in planning and painting a Mural. A Mural that would brighten and add life to their community. A cheery, visual image signifying the strong, healthy, community life they were striving to achieve.

"Their hope was to brighten the darkness of the tunnel and provide a welcoming place to play and pass through. In bringing the community together in this endeavour, we believe the Woodydell Mural will be appreciated, respected and continue to remain graffiti free, as this is a symbol of the hopes and dreams of the youth that live in the community."

"After heading down to the site, taking pictures and talking with those involved, plans and designs were drawn out. These designs were made based on the surrounding landscape, materials available, and the ages and abilities of the children. Safety was an ongoing consideration. Painting in tunnels as we were, has many issues exclusive to just that."

"Once under way we had almost the entire community involved. Dulux Paint on Pembina Highway had very generously donated all the paints we needed and more. This, along with tinting them on site allowed the children the freedom to be wild with their colour choices. The (2012) staff from the Winnipeg Family Center were wonderful. The community helper kept us fed and hydrated, while summer students helped with cleanup/setup, and at times assisting tiny fingers, for all the youth in the community from ages 4- 16 could not resist putting their mark on the Mural."

"Needless to say, I was very happy to discover a fellow artist in the community. She worked long hours tirelessly alongside me for the duration of this 35-40 degree endeavour. We were on a time constraint with only 4-5 days to reach completion. I don't know what I'd have done without her. Julia Buchanan, you are truly a godsend, as well as a fantastic artist."

"Murals . . . such a fantastic way to bring people together . . ."
Displaying Photos 1-3 of 4