Osborne Underpass (1)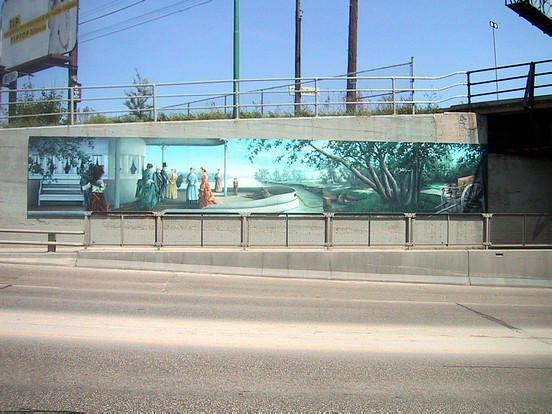 In 2007, Jill Sellers extended her original 2003 riverboat scene in both directions.

This rendering was by Jill Sellers in 2003. It was one of four Mural installations intended as beautification of the underpass with meaningful historical artwork. Sponsors of the overall project were: Take Pride Winnipeg!, City of Winnipeg, CN Rail, Pem-Brand, McDonald's, South Osborne Beautification Committee, Manitoba Hydro, Red River COOP, Golden Rule Seniors, IBEX Payroll Services, Lord Roberts Community Centre, St. Mary's Nursery & Garden Centre, Province of Manitoba. In 2017 the installation came down and was replaced with Canada 150 banners.
Displaying Photos 1-2 of 2