145 Market Avenue (2)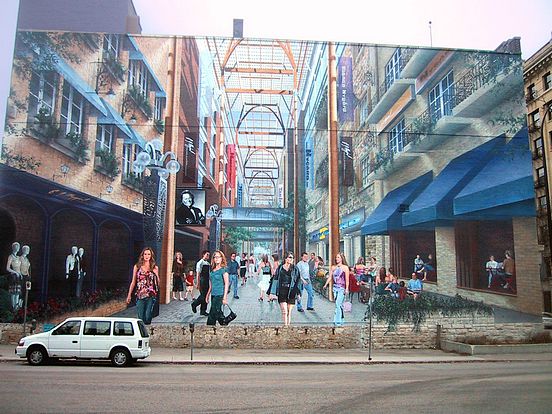 Artist Jill Seller's conception of Nyg?rd Village. One of the most ambitious Mural projects ever undertaken in Winnipeg, work on this Mural took almost two full Mural seasons to complete. The completed Mural is 50 feet high and 92 feet wide.

This rendering was by Jill Sellers (lead artist), Peter Tetrault, Dave Penner and Dennis Bell for Nygard Fashion World. 'Nygard Village' didn't happen; a new tenant moved in, and in 2017 the Mural was painted over to make way for a new type of public art.
Original notes follow:

Media Release Mural of the Year 2006
June 18, 2007
FOR IMMEDIATE RELEASE

MURAL OF THE YEAR WINNER ANNOUNCED

Winnipeg, Manitoba--- The Murals of Winnipeg website and its panel of independent judges have made its selection for the 2006 Mural of the Year.

The panel of 37 judges selected Jill Sellers' conceptual rendering of the proposed Nygård Village at 145 Market as their choice for the honour from 38 new Winnipeg outdoor murals painted in 2006.

Sellers served as senior artist on this project, which started in August of 2005 but was not completed until mid-November of 2006. In 2006, she assembled a team of artists that included Peter Tetrault, Dave Penner and Dennis Bell to assist her with the rendering. "They were a great team to work with; and each of them brought something to the project," said Sellers.

The photo-realistic mural is 92 feet wide and 50 feet high, and the scene evokes a European flavour. Late in the project, Sellers and company populated the mural scene with human figures, and included their portrait work of several people who worked in the Nygård store. Penner did one portrait and the rest were rendered by either Sellers or Tetrault. Great care was also taken by all four artists to accurately represent the clothing and to present them in an attractive manner. Dennis Bell took the unusual extra step of sculpting an ornate hanging frame around the Nygård portrait to highlight it.

"Jill is definitely one of Winnipeg's premiere muralists, and this incredible wall is a crowning achievement for her career," said Bob Buchanan, who created www.themuralsofwinnipeg.com and organized the effort to select the winner of the award. Publicity shy Sellers declined Buchanan's offer of a celebratory luncheon in her honour.

One mural judge called the mural 'one of the most ambitious mural projects ever undertaken in Winnipeg'. Other judges called it 'visually stunning' and 'of the highest quality'.

"The judges were earnest and impartial, and came from all walks of life, but share a love of public art and of our city," Buchanan added. The 37 judges worked independently to review the 38 candidates and choose their selections. Judges came from various backgrounds, and included artists, members of the business community, students and retirees.

This wall had previously been the site of artist Charlie Johnston's 1999 'Long Live Sport' mural for Athlete's Wear that featured such well known athletes as Bob Cameron and Donovan Bailey. When Nygård acquired the building, the older mural was painted over in 2004. "I was one of those people who were dismayed at the time over losing a great piece of public art, but no longer!" said Buchanan. "Our congratulations go out to the mural client as well- it's a real achievement, and something that our citizens and visitors will be able to view and admire for years to come."
Displaying Photos 1-3 of 13