Pembina & Jubilee underpass (2)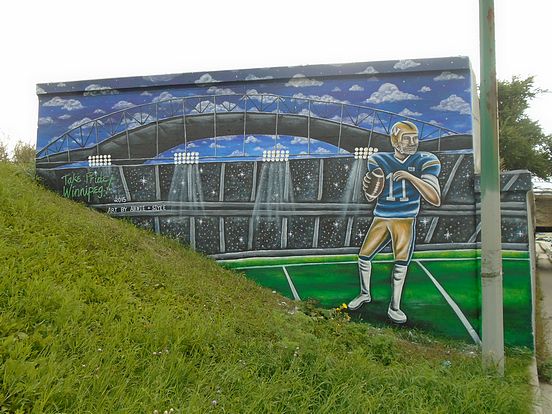 This artwork was rendered by Annie Bergen and Siyee Mann in 2015 with sponsorship by Take Pride Winnipeg. It for was lost in 2017 with major overhaul of the underpass rapid transit corridor. Original notes follow:===

Annie Bergen: "This Mural is meant to commemorate the new football stadium and the Winnipeg Blue Bombers. I worked with Siyee Mann to paint this Mural. The wall itself needed a huge amount of prep work before we could prime and paint our Mural. It is a retaining wall, and there is constantly moisture dripping down and causing some issues with peeling paint. We scraped and scraped away old layers of paint - in this process, I discovered at least 2 Murals that were painted on this wall. Sometimes when Murals are painted over top of another Mural, this can cause problems with the new Mural sticking properly. Especially in this case - I could tell that there was artwork painted and sealed, and then another Mural painted over top of that. The 2nd Mural didn't stick properly because paint does not like to stick to glossy, sealed surfaces. So I knew that simply painting another Mural over top of this would be problematic and that my Mural would also begin to peel and look bad after a short time. So we scraped, washed, sanded and caulked the wall a lot before we could prime and then paint on it. Another challenge for working on this wall was the angle of the ground. The ground sloped at about 45 or so degrees. which made it difficult to set up scaffolding and ladders every day. Also there was just a ton of traffic - surrounded by 6 lanes of traffic below and the train above. For these reasons, this Mural was a challenge so Siyee and I put in really long hours and worked really hard to get it done. The location for this Mural is perfect - very visible and serving as an entrance en route to the stadium."
Displaying Photos 1-2 of 2