239 Harrow Street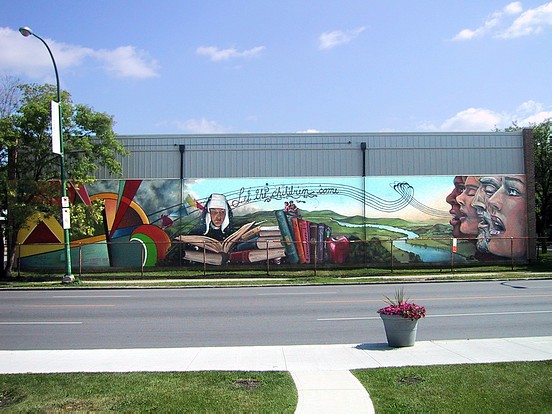 This Mural was rendered in 2004 by Mandy van Leeuwen and Michel St. Hilaire in 2004, with sponsorship by Take Pride Winnipeg and Corydon Avenue BIZ. In 2017, the condition of the wall had deteriorated to the extent that there was considerable peeling; and the wall was painted over.
Original notes follow:

andy van Leeuwen: "This one was a collaboration by parents and teachers of the school; and it was my very first collaboration with Michel. We broke down some elements of what this Mural would contain: the choir, that it was a Catholic school, literature, children reading to each other; symbolism of school, such as the apple."

The geometric patterns at the left were used to fill out the mural so that the whole wall would get used. It works beautifully here and helps bring a balance to the whole design. Because the tree is there Mandy and Michel made sure that the important details that the school wanted were unobscured in the centre and right panel.

Mandy: "Although we weren't going to use any strong religious symbols on the wall, we didn't see any reason why there shouldn't be a portrait of a Catholic Nun on their school. We thought it very appropriate. You can see that her face is glowing from the story that she is reading. Her face is rather a focal point although her face isn't as large as the choir faces. The choir faces consist of a woman, an older man, a child and a teenager; a mix of age and culture. 'let the children come' is a biblical phrase; and here it refers to teaching them."
Displaying Photos 1-3 of 3