121 Hazelwood Crescent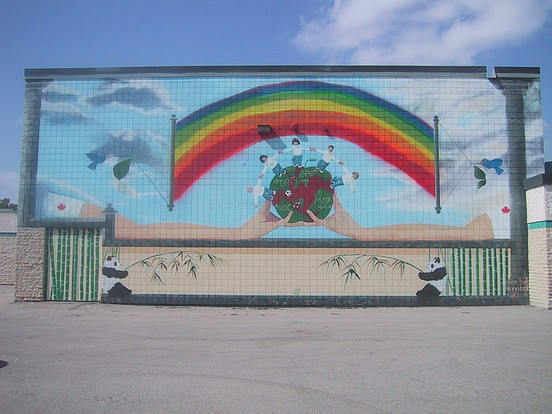 This artwork was rendered by Dennis and Diane Bell and was completed on August 11, 2006. It was initiated under the direction of the school's Parent Advisory Council, with sponsorship by Take Pride Winnipeg. In 2015 the school exterior was completely repainted and the Mural was lost. Original notes follow:

Dennis Bell: "The Mural at Dr. D.W. Penner School was designed by several of the students from the elementary school. The ideas from these students were narrowed down to 1-4 designs. The students art was redeveloped into comprehensive renderings that were approved by the principal and the Dr. D. W. Penner Parents Council."

"The Mural was true to the students' art. Most of the application was done in a child-like manner. For example, the rainbow was painted on the wall with a acrylic latex exterior flat paint and then finished off with florescent paint in a scribble like fashion."

"The Mascot for the Dr. D. W. Penner School is the Panda Bear. Diane and I decided to use a panda at each end of the rendering holding young bamboo stocks, bent in an umbrella shape."

"The Students of the School put hand prints in a section that was left in the centre for this. Prior to the hand prints being put on the Mural, all the students attended an assembly in the gym, where we were introduced to the students as the Mural Artists. The columns and cross beams were an afterthought by the principal. It's hard to paint a Mural with the integrity of the students in mind, making this approach a bit difficult. You must always keep in mind that the students are at the elementary level and keeping as close to the students' renderings as we could."

"We especially enjoyed the visits everyday from the community members stopping by everyday, morning, evening and night. We were also invited to one of the community members, Eugene, for dinner and also to store our equipment during the weekends and when the caretaker went on holidays and the school was closed. We thank Eugene very much for his fantastic interest in this project and open hospitality."

Diane Bell: "With such a hot July this year, you can imagine how hot it was to paint that Mural facing the south with the white wall and black asphalt. Also, the ground asphalt in the schoolyard was breaking up and our scaffolding sunk in many spots. The paint dries so fast with the high heat. They will be having a presentation for us at the school in the fall. The community members were fantastic, opening their homes for facilities that we required when the school was closed. They had us for lunch and dinner, they were all so thrilled about the Mural. We sure made many friends in that community. In fact they were very sad when we were finished."
Displaying Photos 1-3 of 6