Cloutier Drive Underpass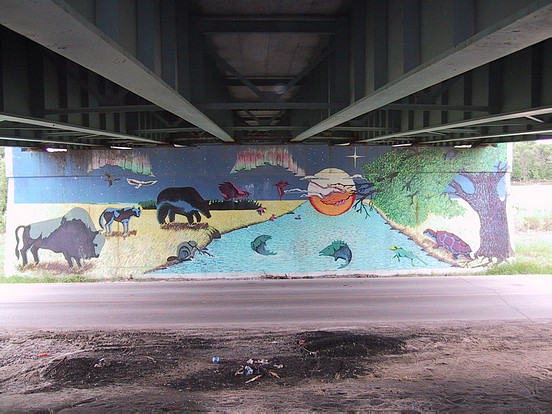 'The Spirit of the Great Narrows'
This Mural was rendered by Louis Ogemah and Louise Loewen in 1995 along with student artists Tony Shidel, Jamie Thomas, Mike Zeglan, Rose Mason. Painters were: Richard Marchetti, David Norman, Paul Bernardin, Jordy Lennon, Lynn Lodewyks, Odessa Rossetti, Florence Badejo, Regan Lemieux, Kelly Neufeld, Sean Roach, Tiffany Shand, Leah Granger, Lynsey Ruteledge, Erin Rousette, Bavar Davoodar, Linsey Varloyni, Adrianna Szared, Jesse Brar, Shaun Gray, Jay Raichura, Stella Leung, Aleisha Stone, Billy Elliot, Robert Brogan, Ryan Webb, Ester Badejo. Sponsorship was provide by: Take Pride Winnipeg!, Belle Fosh Signs, Bronco Rentals & Leasing, Manitoba Telephone Services Mobility, Manitoba Department of Highways & Transportation, Sustainable Development Innovations Fund, Wyatt Rentals, and General Paint. By the summer of 2014 the underpass had undergone major restoration which mostly obliterated the artwork. A new Mural was painted in the autumn of 2014 at this location (see Murals section, this location).
Displaying Photos 1-2 of 2