1465 Maroons Road (1)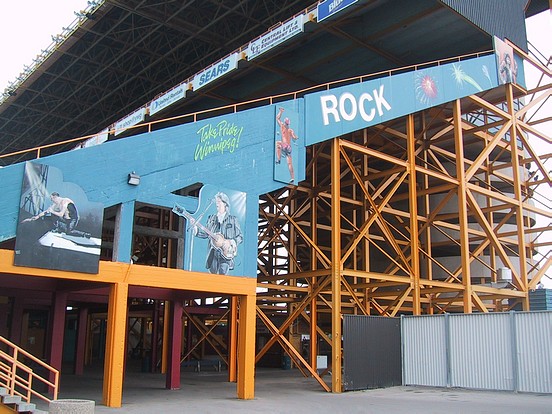 This artwork by Mike Valcourt in 1998, sponsored in part by Take Pride Winnipeg was lost in 2003 after a restructuring of Winnipeg Enterprises. Original notes follow:

Mike Valcourt: "This was my first experience dealing with a big corporation- Winnipeg Enterprises. I don't think I was really prepared for what they wanted me to do. I did my best with what I could do at the time. They wanted something to portray arena events and bands that had played there. I went to look at stadium photos they had taken of all the bands who'd played there and selected a few."

"My design was about the 'entertainment' aspects of the stadium. I wanted it to be more fun and more fluent and flowing. I came up with my best proposal for it and they liked it. I painted Bono, McCartney and then a rock climber- having him 'scale' the stadium. And finally there's Mick Jagger on top. I originally painted him with horns and a bit of a Devil's tail, but that I got rid of it because I didn't want to raise eyebrows!"

"I painted Bono (Photo 2) freehand just by looking at a 5 x 6 picture; and this was the first year that I painted on a large-scale. I really love Bono there; he's reaching out, you see the spotlight hitting him, and you see the fan reaching out to him. Down in the corner I included the events security guy and the masking tape on the stage. I used a lot of colour. I didn't quite know how to paint people yet. He is not in as high a contrast as the way I'm painting now. But I've learned! You can see how I've used the lighting, and the way it plays off his boots, and you can tell he's wearing leather pants. It was really exciting for me to do something like this!"

"I had finished two of the figures, Mick Jagger and Bono and I was working on James Hetfield from Metallica; but apparently he played the ARENA and not the stadium so I realized I couldn't use him. So I painted Paul McCartney who HAD played the stadium, and it worked out better- he turned out really well as I gained experience."

"Paul McCartney (Photo 3) was a big challenge. His jacket is of different sheens; it's a reflective material, the shading depending on how the light bounces off him. The way it folds across his body, I had to make it different lightness or darkness and play around with a lot of grey. You can tell from his face it's not quite what I could do now. I wish I could have painted it a little more vibrant and exciting. But it's all to scale and I like the perspective where you're looking up at him which is perfect considering the height it's mounted at! It's his classic stance. I used the jigsaw to cut out the shape; this was my idea to help it stand out more and give it a bit more flair. If you notice the contour of the cut at the top is the same as that of his bass guitar; a nice little design element. With Bono, the cut was the same shape as his body posture. I also put Paul into a spotlight, which wasn't the case in my reference photo. Paul is my favourite."


Displaying Photos 1-3 of 3