Portage Avenue & Kennedy Street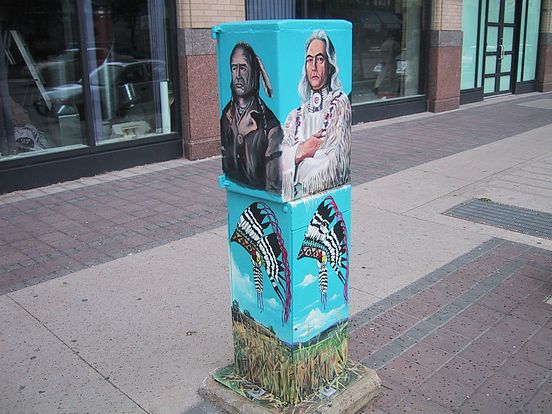 Manitoba Chiefs: Chief Peguis (left) and Phil Fontaine. The artwork for this box was completed in 2003 but the box did not hit the streets until June 2004.The artwork on this traffic controller box was rendered by Tom Andrich for the City of Winnipeg Public Works. It was removed from the street in 2011 when it became necessary to switch to a different style (bigger) controller box at that intersection. The box was donated to a private citizen and for 2 years was located at 75 Noble. In 2013 the box was donated to Neechi Markets and is displayed inside there- indoor artwork and Murals are beyond the mandate of this website, so it was moved to the RIP section.
Original notes follow:===

This is another in a series of Heritage-themed Traffic Control Boxes by artist Tom Andrich, which are situated downtown along the north side of Portage Avenue. In 2011 the box was removed from the street because a larger box became required. The box was donated to a private citizen. The 2 photos shown here are of the box at its original location at Portage & Kennedy; close to the home of APTV.

Tom Andrich: "I used a bright blue sky for the prairie scene. Phil Fontaine, Elijah Harper, I wanted to put Manitoba Chiefs on here because I wanted something representing the native population. Chief Peguis helped the Selkirk settlers they wouldn't have survived that harsh first winter without him. The headdress represents the assembly of Manitoba Chiefs. The eagle feathers, the White Buffalo are spiritual symbols."
Displaying Photos 1-2 of 2