555 Osborne Street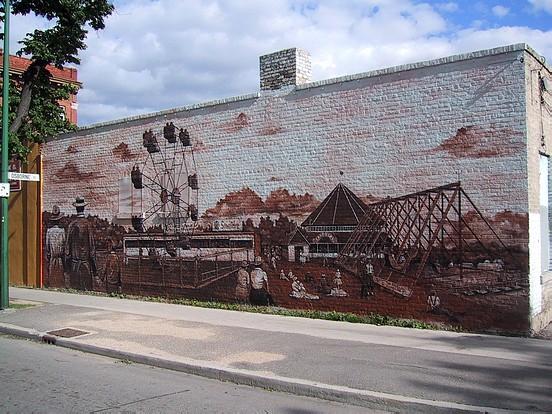 This rendering of River Park in the summertime was completed by Tom Andrich in 2001, with sp;onsorship by Take Pride Winnipeg and South Osborne BIZ. In 2012 the entire wall was repainted and the Mural was lost.
Original notes Follow===

Tom Andrich: "The sponsors wanted something representing River Park because I'd done the ski jump mural. Tom Ethans (Take Pride Winnipeg) recalled to me that there was a roller coaster there. I went through the archives I just couldn't find any reference to a roller coaster that was from that park so I didn't include it. And then last year after the wall was all done I was poking around through the archives in a totally different collection and I came across the roller coaster! So Tom was right!"

"But I did find a carousel, the floating pontoon bridge and the boat swings. I got pictures of those, so now I had factual Heritage content to incorporate. I made a montage of those things; I included a lot of people to make it festive. With the three big figures on the left, I wanted a family going to the fair. And the people at Sawatdee were REALLY interested in the development of the wall; they came out and were taking pictures of it in several different stages of development so I wanted to have their company name on the wall."

"That was a tough wall, too. It was a very rough surface and it had been painted lots of times. I did some prep work and primed it once, but to have thoroughly prepped the wall would've taken a lot more time than I had."

The whole mural was done in sepia colour tone to represent the era it's from: photographs from that era were of sepia colour hue. In River Park, the building that houses the Carousel has a sign of the front of it that Tom reproduced on the wall with the original spelling that was there: "caroussel". After the Mural was finished the calls started to come in that the word was 'misspelled'. Tom rechecked his original photo to be sure there had been no mistake. In the end, he decided to go out anyway to remove the extra "s" even though it's factually accurate (the French spelling contains the double 's') because people out there wouldn't know this and would think it was carelessness. Today, Tom is still a bit nervous about having 'fixed' the spelling: "That's how history gets changed".
Displaying Photos 1-2 of 2