1085 Main Street (2)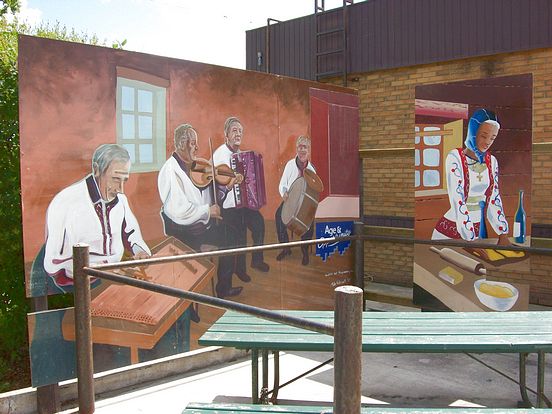 This artwork was for Age and Opportunity, a project undertaken by Graffiti Art Programming in 2007 with artists Mike Valcourt and Roger Dorian. The building was sold and the new owners removed it in August of 2012. The ORIGINAL location of this Mural installation was at Age & Opportunity's formar location at 817 Main (see photos 2 & 3). The original notes which follow below pertain to its original location.

===

Mike Valcourt: "It was so cold the day I installed this (February 21), about minus 30. The screws were so cold that every time we tried to put them in they would just snap! It was THAT cold. So what we did is that we went inside and put the screws on the radiator; and when I was ready to drill in a screw I got my helper to run in and grab a screw off the radiator! That actually worked. But come the spring thaw, you'd probably find about 20 snapped screw heads on the ground there. And with every snapped screw I'd have to drill another hole."

"The client, Age & Opportunity wanted something that would tackle the graffiti problem there. It is a senior's complex. I think we tackled it in a nice way; and I think that the Mural will be continued in later days or years. The theme is the Ukrainian immigrants; and this is really only one portion of the Mural. It starts with people in the Ukraine farming; then they're on the ships that bring them here; then they're landing and starting anew. This scene is more of how they have established themselves here. There is another section planned where they are accepting and receiving the NEW immigrants landing having already been fully integrated themselves here and shared with us their cooking, music and dance; and they are now ready to accept the next wave of immigrants."
Displaying Photos 1-3 of 3