185 Young Street (2) Location Map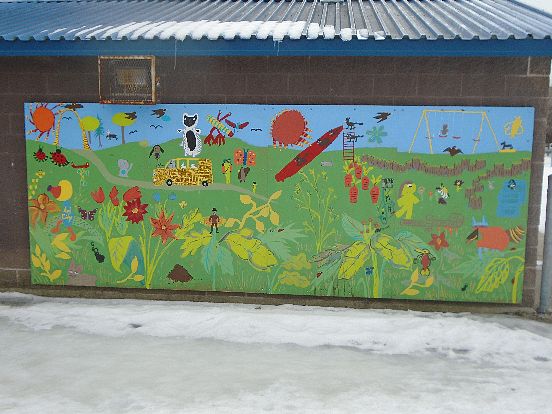 "Garden Mural"


Location: East Side South of Broadway; playground building; access from back lane to Balmoral; North Face

Occupant: Broadway Community Centre- playground storage building

District: West End

Neighbourhood: West Broadway

Artist(s): Art City Youth

Year: 2013

Sponsors: Art City


Eddie Ayoub: "Art City participants created Garden Mural in May of 2013."

"Visually, we wanted to create a bright, positive piece that referenced the community garden it faces, as well as the park/playground located immediately to the south."

"It replaced the "Before I Die" public art piece, a chalk board on which community members could write what they want to do or accomplish "before they die". That project was deemed too negative, and much of what people wrote on it was unsuitable for children and decent minded-citizenry."

"As a follow up to producing Garden Mural, we ran a workshop in which participants built mascot style costumes based on the characters they had painted in the mural. The idea was to wear them at the opening reception so it would feel like the characters had stepped right out of the "world" that had been created. The costumes looked great!"